April 17, 2006
Back in October I went to see LOC in Vega for an evening of full blown party! Saturday night was just as succesful as the first time.
Liam has a voice as if it was sent from heaven, and every word he sings live goes straight through the speakers. It is truely amazing, and I don't remember any singer who has ever given me that experience before. LOC might be a real ass with his generel attitude and lyrics - I don't know, but when he is on stage, he has a really cool attitude. Talks to the audience, playing around with the guys on stage, being just really attractive and cool.
Along with him on stage was Bai-D, and he did a brilliant job keeping the party going and his voice completed LOC's voice amazingly.
The stage this time was done up really nicely (I doubt that they would like me to use those exact words to describe it), it looked like a rough cellar or industial building of some sort, it worked perfectly. Simple and nice.
We, of course, had a fun night out, and thanks to Malene for a perfect evening and the nice treat it was to take me to the concert!
April 14, 2006
So last night Boy George, Sammy Jo, and Djuna Barnes visited Vega to dj for us all night. It was an ok evening, the music could definitely have been more vibrant and inspirering, but we were on the dance floor all evening anyways.
I am not sure but when I dicoverd that Boy George had entered the dj stand it seemed like he was only there for about 15-30 minutes. Fair enough, I have no idea how long it was planned for him to play, but to me it seems like a very short time.
Many years ago I was told about how brilliant he was as dj. When I lived in Brighton back in 96/97 he played there on a monthly basis in the Fruit of the Loom-event. I don't really remember if I was so lucky to experience him back then, but if I was presented with what I heard last night it is no wonder, that I wouldn't be able to remember - cause dull and common would be words suitable to describe his work last night.
But to be honest I am sure it was only last night he didn't make an effort, cause my impression is that is truely is a fantastic dj.
I have heard Djuna Barns before where I was blown away with her tunes. She has so much talent, and she is ever so unique, so I have absolutely no idea why she played such a plain set last night.
I never found out who Sammy Jo was, which may sound surprising, but all the music sounded very much alike, which was disappointing.
But I had a fantastic evening with Trine and Malene - and Mette as always. Thank you girls!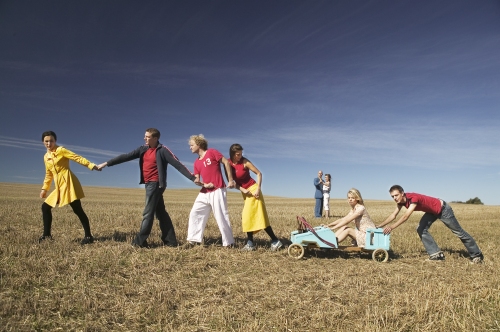 Hey forgot to tell about the Under Byen concert I went to last weekend. It was fantastic!
They seem to have changed style a little bit and this concert was definetly different and less quiet than what I have seen and heard from them before. I must admit I have not bought their new album yet, but this concert really convinced me, that it is a "must have".
Had a fun night out with Catharina, Trine, and Malene. Thanks a lot!
Over and out!
April 2, 2006
Ok, so today after a very yummi brunch at Marius I went to Cinemateket with Malene and Trine to see Drawing Restraint 9
And maybe it is my luck that the night film festival has now finished, because I don't seem to join the films that is quite my taste. Well I must admit, that it has solely been my own fault, cause Trine has just offered to order tickets for the films she was going to see, and I have put my faith to her judgement. And we don't share interest for the same genres in film - I have found out! All it would have taken me was to look up the titles she informed me about, but I didn't, and so I have seen two films now that have been ever so strange and silent. Drawing Restraint 9 I think have about 5 hole sentences, and it lasts for 135 minutes!
Anyways, it was a bizarre film, too long and too wierd, and I think it is a good thing that Björk has her music career to fall back on

Thanks to Trine and Malene for a very nice Sunday morning and afternoon.